Yes, my friends … you read that headline right.

I'm going gluten, dairy, and sugar-free for the next six weeks.

And, no … this is NOT an April Fool's joke!

Why such a sudden and dramatic shift? It's simple, really.

First, after years of starting multiple incarnations of seemingly well-defined "healthy eating" plans — and then stopping when life gets in the way — I've realized that I need a lot more "structure" in order to make long-term changes in my health and weight. I also realized that I never really give myself the time and space to devote to doing what it really takes to be really healthy … perhaps because it's just easier to "try" instead of actually "do."

Couple that with the fact that I've been majorly exhausted for the last few months — and then throw in a major health scare for a very close relative — and what you get is the realization that I have to buckle down and take control of both my health and my weight … because no one else can do it for me … and I need this body to last me a lifetime.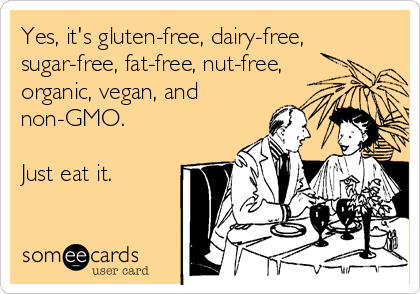 Okay, it's not going to be that bad. Really!
Now, I'm guessing you may have some questions about all this. I've done my best to anticipate those, and I have some answers for you too … so here goes!
Why gluten, dairy, and sugar-free?
When I sat down and truly looked at my diet of late, guess what I found? Yep, it's filled with gluten, dairy, and sugar. And I wondered … are these the culprits? Are these the reason I'm overweight and tired? Well, they definitely could be so that's why I'm getting rid of them for the next six weeks to see how I feel and how my body changes without them in my diet. It's also possible there are other factors at play, and I hope to discover them too.
Is this a permanent diet change or just "Spring cleaning?"
That's the question my friend Christina asked over on Twitter yesterday. The answer is no, this is not a permanent diet change. I plan to re-introduce gluten, dairy, and sugar after the six weeks is over — in moderation, of course. And if I find upon re-introduction that one or more of these causes issues again, I will consider a permanent ban … but I'll cross that bridge when I come to it.
Is there a specific "diet" you're following?
Yes … well, sort of.
I'm following the main principles layed out in Dr. Mark Hyman's Blood Sugar Solution. After evaluating multiple eating plans (paleo/primal, Whole 30, etc), this is the one that resonated most with me. As for that "sort of" part, in the interest of full disclosure, I am not following this plan 100%. Dr. Hyman advocates the inclusion of numerous supplements, and while this may be necessary for some, I don't feel this is necessary for me. I am including a women's multi-vitamin with herbal support in it and a probiotic, but that's it.
How does The Chef feel about all this?
He's on board! Yes, The Chef is going gluten-, dairy-, and sugar-free with me. That's why I love him.
What does this mean for Rhubarb and Honey?
Well, truth be told … I probably won't be posting here as much.
Believe it or not, food blogging takes a lot of time … time needed to develop recipes, cook said recipes, cook said recipes again if they aren't quite right the first time, style and and photograph said recipes when you're finally happy with them, and then write witty posts to talk about said recipes. That's a lot of time, my friends … and right now, I need that time for other things.
But, don't fret … I'm not done blogging. I'm just blogging less. And when I do blog, you can be guaranteed it will be both delicious and healthy!
So, that's it. If you have other questions, please don't hesitate to ask me … just leave me a comment, and I will do my best to answer.
Until next time … be well, my friends!
P.S. Thanks for reading! Please keep in touch by subscribing to Rhubarb and Honey and following me on Twitter, Facebook, Pinterest, and Instagram.